---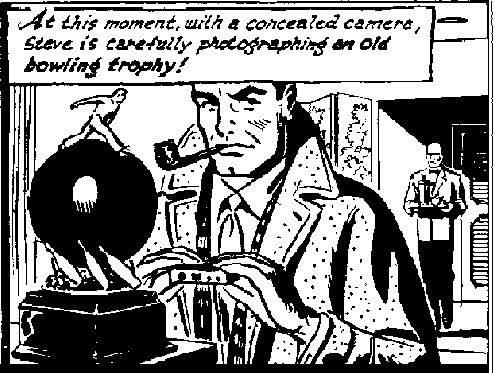 ---

The advantages of using a subminiature camera are numerous:

Their size and weight make them easy to take everywhere.
People don't believe it when you say, "I'm taking your picture".
Their history is as fascinating as James Bond.
Their results are much better than you'd expect, especially with today's films.
The cost of using them can be as minuscule as their size.
And best of all -- you can still use these fine optical instruments!
Take a few minutes and explore the little-known world of the littlest cameras.
But be forewarned: YOU may get hooked, too!
---
---
Can't decide, or looking for specific information but don't know where to look?
Just type in a keyword or phrase, for example, FUJI MINI, and press the FIND button.
You'll get a list of all the pages on the SUBCLUB that mention your item.
---
Representing the subminiature photographic community on the internet, the SUBCLUB is proud to be:
YAHOO'S "BEST BET"

,
NETSCAPE'S "COOL SITE"

,
AOL'S "EDITOR'S PICK"

,
WEBCRAWLER'S "TOP SITE"

,
EXCITE'S "TOP PICK"

,
PIXEL PUMP'S "PIX"

, and
OINGO'S "CHOICE"
---
* This site is best viewed with version 2.0 (or an equivalent browser) or higher. Otherwise, lists may appear unaligned, text may be incorrectly formatted, graphics may not appear (or might appear in lower quality), color quality may be reduced, etc. PLEASE, don't blame us if your internet browser is from Bill Gates's monopoly, Microsoft Corporation.
* Emphasizing quality over quantity, you are visitor to the Sub Club. Thanks for stopping by. Please visit us again and help spread the word!
Free counter provided by Honesty.com.
---
The information provided on this website comes from an idiosyncratic amalgamation of numerous sources, such as books, articles, and product literature, as well as personal experience, correspondence, and opinion. Nothing on this website is copied directly or indirectly from these copyrighted materials, nor it is merely reworded or plagiarized. None of the material on these pages can be legally copied without the specific consent of the SUBCLUB. The information on these pages is provided for the individual, personal use of the general public, but the copying or re-distribution of this material, in whole or in part, in any format is strictly forbidden by US Copyright Laws.
COPYRIGHT @ 1995, 1996, 1997, 1998, 1999, 2000, 2001, 2002, 2003, 2004 by Joe McGloin. All Rights Reserved.